An Ophthalmologist In Your Kitchen – The EyeQue Insight Review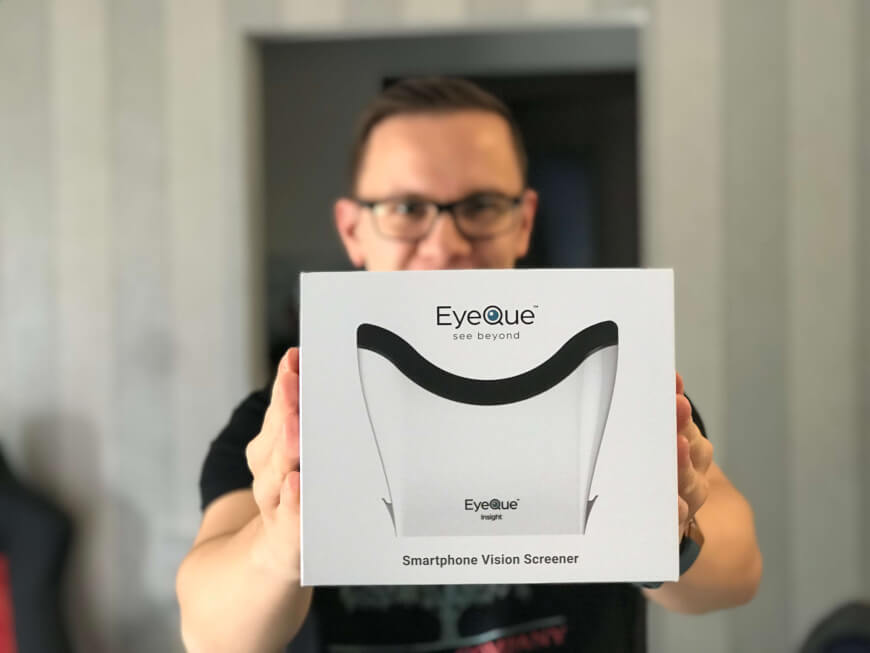 Easy-to-use, accessible and relatively low-cost solutions for a widely experienced problem: these are my favorite digital health innovations. EyeQue Insight lets anyone test their vision at home so people living in rural areas, with special needs or no access to transportation could still make sure they have the necessary sight test from time to time. Here's our EyeQue Insight review.
Have you seen the numbers? What about the letters?
Eye problems are global phenomena: the World Health Organisation estimates that approximately 1.3 billion people live with some form of vision impairment. That means on average at least one in seven people have trouble seeing perfectly. That's an insanely huge number – and The Medical Futurist team is not an exception here either. The majority has glasses or problems with their eyes for a long time.
I only realized as an adult that I have problems with my vision, I'm short-sighted – so I have to live with a "telescope" on my head, but it proved to be great, especially while driving. I go to the ophthalmologist yearly to check whether my sight worsened. Rozina, our marketing guru, said she really loved to go to the ophthalmologist when she was a kid because she always had to read a board full of smileys and the entire exam seemed like a game for her. She was diagnosed with astigmatism and had her first glasses when she was three or four years old, but fortunately could put them down by the age of seven. Currently, she only wears the frames as her eyes are dry and glasses help in mitigating headaches.
Nora, our editor in chief, has been wearing eyeglasses since she was 10 years old due to nearsightedness. At first, she only needed minus 0.5 diopters and the doctor said she didn't have to wear it all day, but she loved the colorful frames so much that no one could have convinced her to put them down. Not like her classmates: when the fourth-graders had to go to the doctor for an eye check, many were really afraid of getting glasses. As the eyesight exam was a recurring event in school each year, some already knew what to do. The smiley ophthalmologist had a board with letters on it – which you had to read with covering your left or right eye, so some pupils learned the shapes by heart – and tried to cheat the system.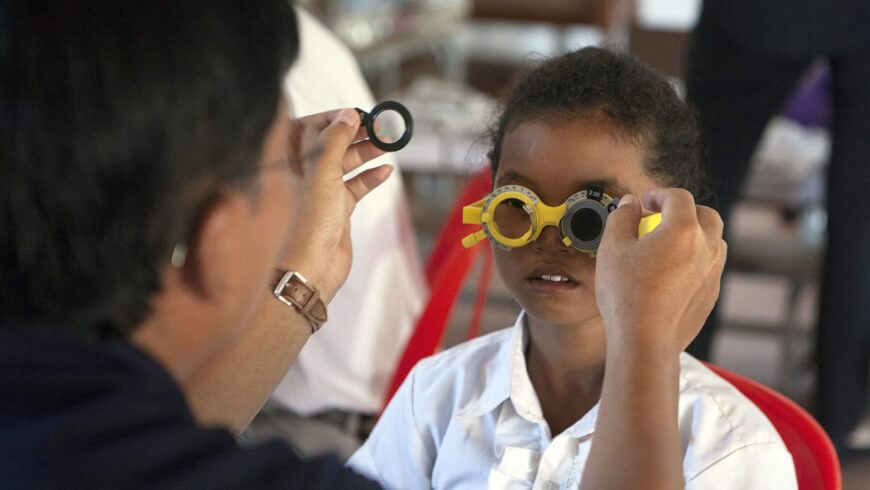 The future holds something entirely different. Several start-ups offer point-of-care eye tests which enable to examine eye health at home and thus, people only need to go to the doctor when they have a symptom to cure. The EyeQue Insight portable device is one of these solutions, and The Medical Futurist team had the chance to try it. Briefly, we loved it. If you are interested in more details, read on.
The EyeQue and its technology
The company was founded in 2015 on a quest to develop optical smartphone attachments and mobile applications that let people test their own vision anywhere – without the need to go to an ophthalmologist and sit in front of room-sized ophthalmic refractometers. The Newark-based EyeQue has an MIT patented technology based on instruments and charts used in vision testing for years. They offer two products enabling low-cost and accessible eye tests for everyone. The Personal Vision Tracker measures an individual's refractive status, including near-or-farsightedness and astigmatism, while the EyeQue Insight determines visual acuity or the sharpness of vision.
As explained on their website, the Insight employs a binocular viewing device attached to a smartphone and presents a chart of randomly rotated "E" patterns or letters of different sizes. The viewer is asked to swipe the smartphone screen in the direction of the opening of the "E". Just like the traditional vision testing, it measures each eye separately and then together, revealing the visual acuity on the smartphone screen upon completion. The resulting measurement reads as 20/20, 20/40, etc. Let's see how it worked!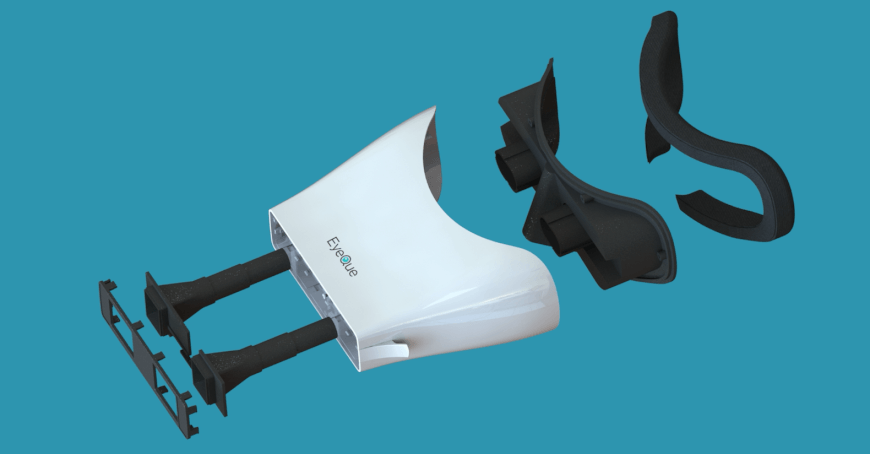 A screener with potential
When I opened the package from EyeQue, I found the well-designed, white version of the device (they also come in black), a rubber band and a wiping cloth in the box. The instrument itself is not heavy, and if you have glasses like me, you will be able to use the gadget both with on and off your frames.
You can purchase the EyeQue for less than 100 dollars (within 30 days you get your money back if you are not satisfied), but it's useful to know that the company is only shipping to the US, Canada, UK, Spain, Germany, France, Italy, Ireland, Australia, and New Zealand at the moment. After you receive the product, you are told to create a personal profile on the company website and download the app. The instrument requires an active internet connection and subscription to the EyeQue service. Both the software and the hardware are user-friendly enough, thus they have built-in tutorials and practice tests to set up the gadget and the app appropriately. It was also straightforward how to use the on-board pupillary distance estimator to set the optics of the screener.
Afterward, you can choose kid or adult mode. For kids, the company created the test as a cartoon with a little blue figure telling them jokes and rewarding the child for taking the test. For adults, it offers detailed testing results after only a three-minute testing period.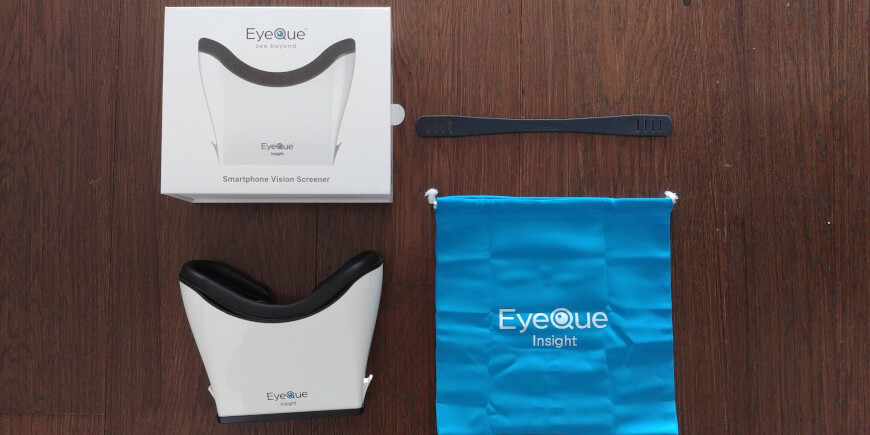 Monitoring vision change, color deficiency or contrast sensitivity
The screener is able to measure distance vision within a minute – with or without glasses on, which enables anyone to check their prescription glasses' accuracy with each eye independently and with both eyes together. In my case, it was accurate. As it is useful to check your eyesight every now and then, the device's best quality will appear after a while: it tracks vision changes, which is very useful to see whether your vision improves or deteriorates over time. In the latter case, you will have a clearer picture of the situation and discuss any further step with your ophthalmologist.
Besides, the instrument tests contrast sensitivity and color deficiency, basically color blindness. The former could determine if you have problems seeing variations of light and dark indicating conditions such as glaucoma or cataract. Fortunately, I have no major issues with contrast sensitivity.
The testing process has two pitfalls which the company should definitely improve. It is not easy to strap the phone to the device, and some users even experienced that it attaches too strongly when it's on. Moreover, it's not easy to find the focus point – without which you cannot test your vision.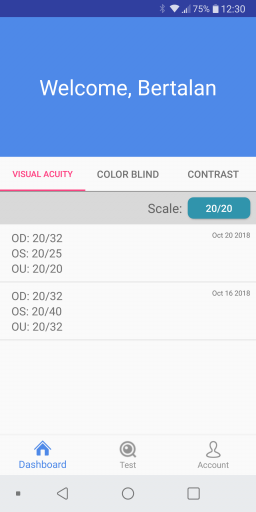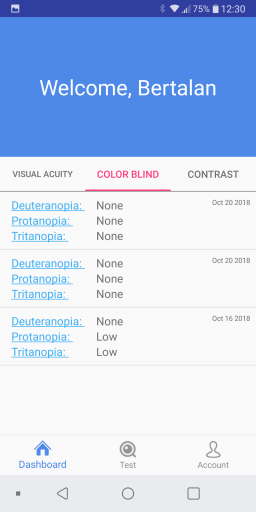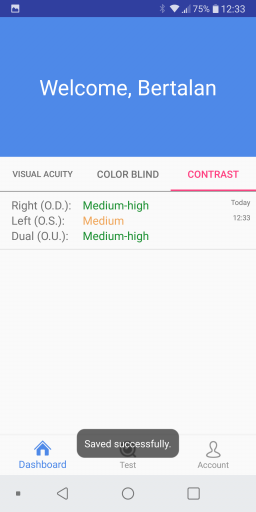 Ophthalmologists' opinion
I'm also not sure about the interpretation of the results by non-medical users. For me, the details were understandable and clear, but another physician, Dr. Alina Doe also confirmed my uncertainty about it. She believes the instrument tests refractive error well, but she noted it's important to always remember that refractive error is just one indicator of eye health; these vision tests aren't meant to replace visits to an optometrist or ophthalmologist. The retina and pressures need to be checked as well as other tests need to be done yearly.
Her Hungarian colleague, Dr. Zoltán Cserháti, said that the company's Glossary of Terms in the report about the results comes in handy for anyone who wants to understand the jargon. Moreover, the charts and details could prove to be important for optometrists/ophthalmologists, not just for the user itself. He also likes the fact that setting up the right pupillary distance and being able to switch between adult/child modes make the gadget more personal. He added that in clinical practice, visual acuity is the most important – contrast sensitivity is not that crucial for the user.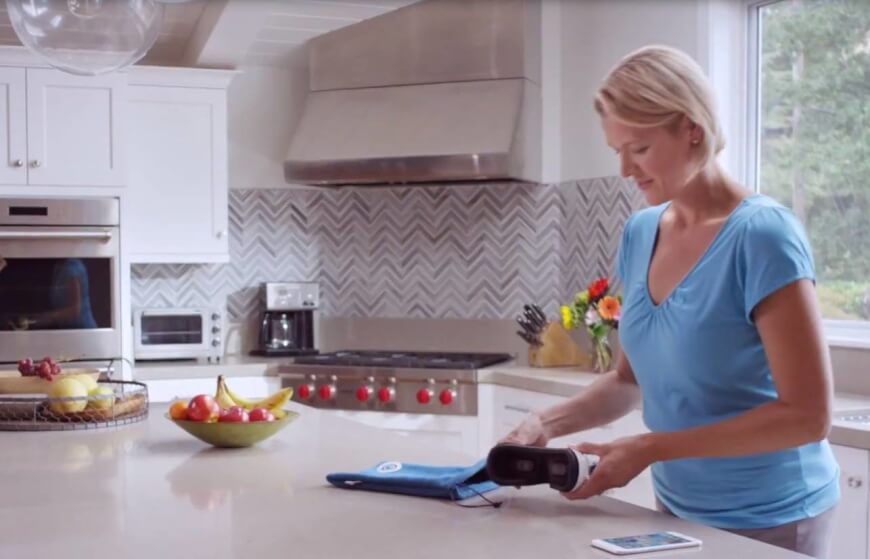 All-in-all, the EyeQue Insight is an easy-to-use and affordable portable diagnostic tool, which could make eye testing at home a reality. Moreover, the device might also be used in developing countries as well as rural areas making accurate vision testing more accessible for anyone.