The Medical Futurist's Top Videos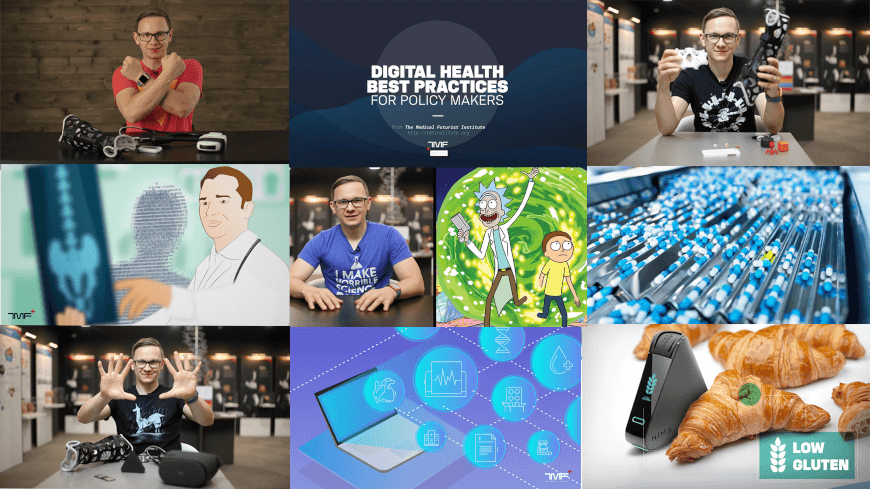 Are you interested in the future of medical technologies? Would you rather dive into the future of food or 3D printing? Did you know how widespread digital health solutions are in Rwanda? Do you rather care about cryptocurrencies and the blockchain? Here, The Medical Futurist team listed its favorite videos to help you get around in digital health. Watch out!
1) The Top 10 Most Promising Medical Technologies
Digital health technologies are booming and it gets more and more difficult not to lag behind: a new start-up, a mind-blowing research or solution comes out almost every day.  But if we step back and look at the big picture, it immediately gets easier to draw attention at those that will have the biggest impact on medicine and healthcare.
Here is a curated list from augmented reality through artificial intelligence to tissue engineering.
2) The Ultimate List Of What We Can 3D Print
The latest news pieces from the 3D printing industry show that only the sky is the limit to the additive manufacturing technology. From Christmas decoration to entire houses, the range of what it can create is wide, even in medicine and healthcare. Have you heard of 3D printed casts or finger splints? Did you know that it's already possible to print out drugs layer by layer?
Here is a short video to introduce you the mind-boggling world of 3D printing in medicine.
3) Wakanda Is Real – Digital Health In Rwanda
In a small country in the middle of Africa, Black Panther's Wakanda is already real. Rwandans in remote villages are using an artificial intelligence-based algorithm on their mobile phones to get a diagnosis for their health problems, doctors in Kigali consult their colleagues in the Western Province about radiology cases through telemedicine, blood is delivered by Zipline's medical drones, and a central electronic health records system ensures data is collected about health activities.
Rwanda is a pioneer in digital health in Africa. Let's see how and why that happened.
4) The Technological Future of Food And Eating
As odd as it sounds, 21st-century humans don't know what they eat. Can you name the ingredients in your last lunch and where those meals came from? We also don't know what we should eat and how we should consume our food.
Innovation and technology might lead us to more conscious food consumption, or how to stretch the boundaries of the food industry. Let's take a closer look at the future of food.
5) 3 Ways How Blockchain Will Change Healthcare
The buzzword of the year award would definitely go to blockchain technology – from banking to supply chain logistics, there's no field where it didn't claim disruption. In healthcare, in particular, there's a massive opportunity for the blockchain revolution to disrupt and lead a digital transformation. From medical records to pharmaceutical supply chains, to smart contracts for payment distribution, there are plenty of opportunities to leverage this technology.
Here are the three ways how blockchain will change healthcare as we know it.
6) 5 Reasons Why A.I. Won't Replace Physicians
Hype and fear surround A.I. in healthcare. Many people are afraid that smart algorithms take over our jobs in the near future. For example: looking at the rapid advancement of medical imaging it could seem like human radiologists will become obsolete as A.I. will take care of their tasks. But it's fearmongering and it's irresponsible, especially if investors do that.
Let The Medical Futurist tell you five things why that A.I. won't replace physicians.
7) Top 6 Trends Impacting The Future of Pharma
While it might seem like a highly lucrative business, the future of pharmaceutical companies looks uncertain. There could be a world entirely without pharma in the future. Innovative startups and preventive healthcare are slowly but surely crushing the demand for pills, which is all that the industry is selling now. Pharmaceuticals must change their ways, or they will vanish.
Here, The Medical Futurist shows a way out for pharma companies. Moreover, if you dived deeper into the topic, here you can find our e-book about the future of pharma.
8) Digital Health Best Practices For Policy-Makers
Disruptive technologies spread around like wildfire, but healthcare systems are crumbling under the pressure of problems and changes. So, The Medical Futurist Institute is eager to do what it can to make sure we arrive at the envisioned better future of healthcare. Our collection of best digital health policy practices, Digital Health Best Practices For Policy Makers, is available and accessible to everyone for free and we encourage everyone to use it for the common good.
Here's a quick summary of the report.
9) 7 Futuristic Jobs In Healthcare
Technologies will definitely transform the job market: did anyone hear about data analysts or software designers 40 years ago? The same will happen with digital solutions and healthcare – the medical job market will experience an upheaval. Some jobs will disappear while others show up from thin air. While it might sound scary, the key to finding your place is constant skill-upgrade and flexibility. Not to speak about mental preparation.
Thus, here's a video about seven possible futuristic jobs in healthcare. Which one would you choose? Cyborg therapist or organ designer?
10) Rick & Morty In Healthcare
Science fiction often inspires scientists and shows us possible utopias and dystopias. As weird as it sometimes looks, the writers of Rick & Morty are many times at the forefront of futurism. Do you remember when in the episode called The The Anatomy Park, Rick shrinks Morty to microscopic size and injects him into a man called Ruben. That's nanotechnology. In the episode called Raisin Gazorpazorp, Morty gets a sex robot and will be a father of a robot infant. That's about the future of sexuality.
Are you curious how the makers of Rick & Morty think about cloning or healing injuries? Watch it here: