The Top Sleep Apps To Start Your Bedtime Tracking Journey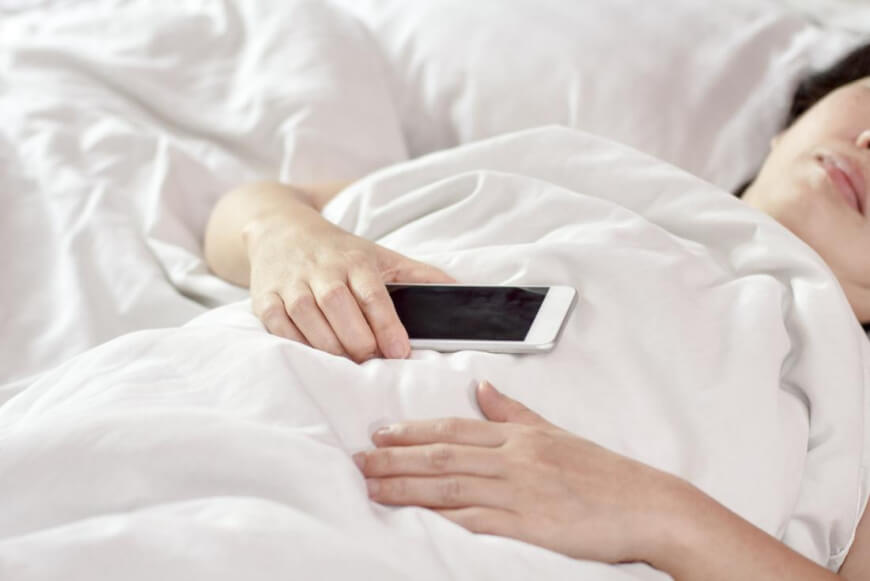 Instead of angels, dragons or unicorns, trackers may guard your dreams in the 21st century – which at least gives you a chance to gain more insight into your sleep data and actually improve your bedtime. If you want to become the master of sleep tracking, start with an app. Here, we collected the top sleep apps to choose from!
With data for a better bedtime
Research shows that humans spend one-third of their lives with sleeping or at least attempting to do so. If you have trouble with the snooze, there have been many traditional and non-traditional, legal and illegal methods to help: sleeping pills, booze, marijuana, inhaling lavender, reading a boring book or listening to the neighbor's story about renovating their flat. However, all these solutions are somewhat contingent. As data-freaks, The Medical Futurist team recommends you instead the easiest and most useful tools in digital health to improve the bedtime experience: sleep sensors and sleep apps.
They not only make you wake up or fall asleep easier, but you will get to know your body's needs much better than before. Until now, there was no tool to see how the minutes, hours, days, months and ultimately, years spent with eyes shut have actually been utilized. With the help of sleep apps and sensors, beyond boosting sleep, anyone can fill in the white patches on their cognitive maps about bedtime with valuable information.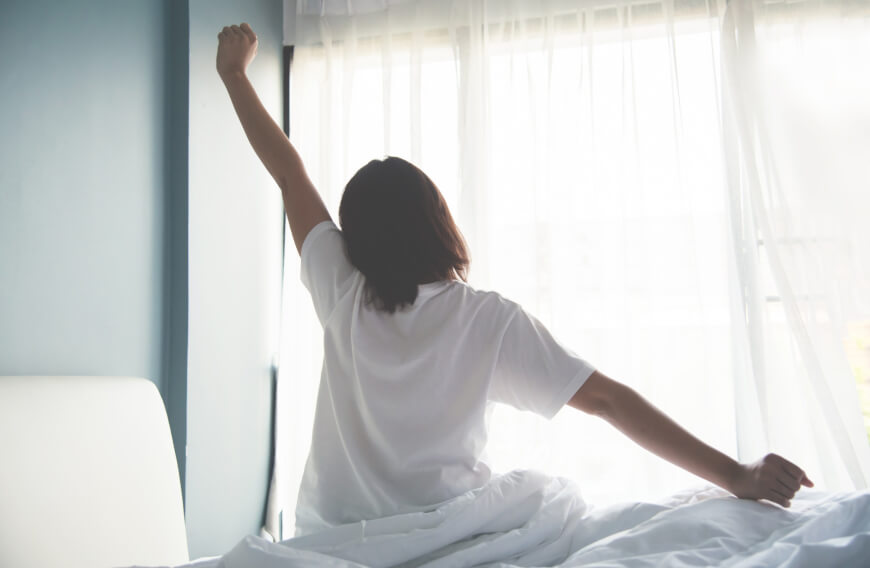 Be part of the global sleep tracking adventure
And not only his own. Sleep trackers could reveal the sleep habits of entire communities – and with the continuous increase of users, soon that of the whole world. For example, the Sleep As Android team has gathered about 8 million individual sleep records between Jan 2010 and May 2016 for their SleepCloud Study. Among others, it found that people around the equator sleep 30 minutes less than citizens in the US and that for some people, alcohol before going to bed can reduce snoring.
A survey of another popular sleep app, Sleep Cycle, found in January 2018 that Americans would give up sex, chocolate, and social media for a good sleep. In another global research back in 2015 they found among others that the best sleep quality worldwide occurs on a Wednesday night. People in South Korea only sleep 5 hours and 53 minutes on Sunday nights and over the course of the week, people in Finland get the most hours sleep – on a Saturday with eight hours and two minutes, on average. But surprisingly, it is Central European countries topping the list of best national average sleep qualities – it seems that Slovakia, Hungary, and the Czech Republic contain the greatest sleepers.
Would you like to join the league of sleep champions and the great collective adventure of sleep tracking? Here, we collected the best sleep apps for you! Although there are many more on the market, we highlighted the ones that could be used without a sleep sensor and those that we already tested. However, if you cannot find your favorite on the list, please reach out to us on our social media channels!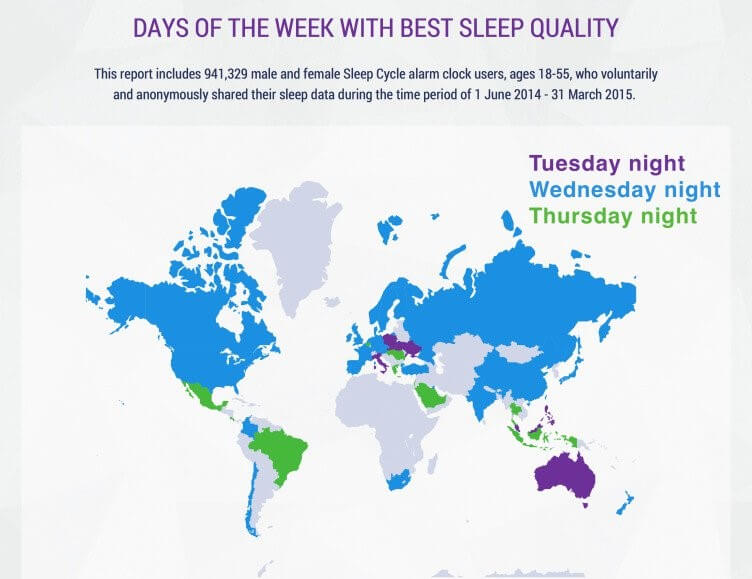 We are biased here: Dr. Meskó has been using the Sleep As Android app paired with the Pebble Time sensor for more than 400 sleep measurements, and it works for him perfectly. Not only for him: the app has been downloaded by more than 14 million users since its launch back in 2010. It uses the Sonar for measurements: ultrasonic signals produced by the speaker and microphone to detect signals created by movements during sleep. Moreover, recently it launched its service for couples sleeping in one bed to get a better insight into their bedtime.
Otherwise, it tracks light and deep sleep, catches snorers, helps diagnose sleep disorders and warns users if they are running on a sleep deficit – and uses a smart alarm to wake you up at the best time in the morning. Although it's the most accurate with a sleep sensor.
However, the app in itself can also prove to be more than useful: anyone can start the sleep tracking journey with the freely downloadable program for Android phones with insightful graphs, analyses, and recommendations how to sleep better. Its biggest disadvantage is most probably that it doesn't work on iPhones. Otherwise, it's our first choice!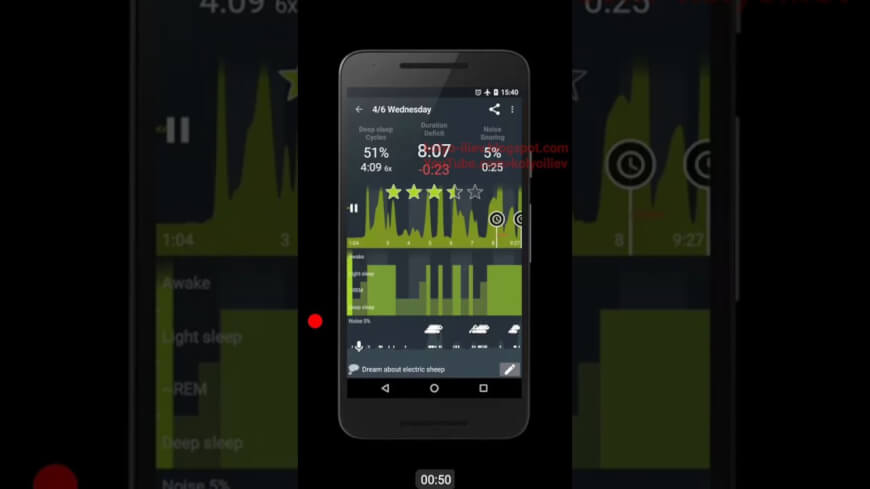 For a long time, Sleep Cycle has been the choice for iOS users, but it's also available for Android phones – and it's the biggest competitor of Sleep As Android. The app went on its journey to conquer the bedrooms of the world in 2008 from Gothenburg, Sweden. They have more than a million users worldwide, and it's a top paid app in the US, UK or Japan. Recently, they included snore detection into the Android version.
The app utilizes sound analysis to identify sleep states such as light or deep sleep by tracking movements in bed. It wakes up the user through its smart alarm with a 30-minute-long wake-up phase. During this time period, Sleep Cycle monitors signals from the body to wake up the dreamer in the lightest possible sleep state. It also records snoring and offers valuable insights into sleep patterns. Our editor has been using the app for more than 300 sleep measurements already, and she would never wake up without the smart alarm. Well, perhaps sometimes at the weekend.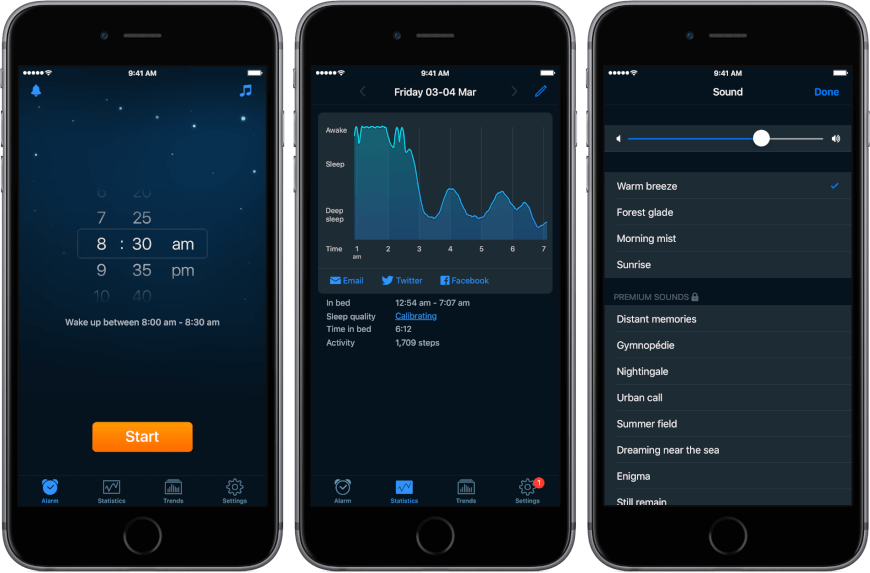 Snoring could embitter any couple's life – even if they are unusual couples such as Joey and Chandler from Friends. The Snorelab app offers the recording of the disturbing nighttime noises, the measurement of snoring intensity as well as help to discover how to diminish it effectively. You get to know the factors influencing snoring, you receive your Snore Score – and truly find out whether your snoring is as bad as other people say it is.
With the app, users can select what snoring remedy they are using – from anti-snore pillows through nasal sprays until humidifiers, and assess over time the efficacy of each means to figure out what works best. It's a genuinely useful, comprehensive and thoughtful app.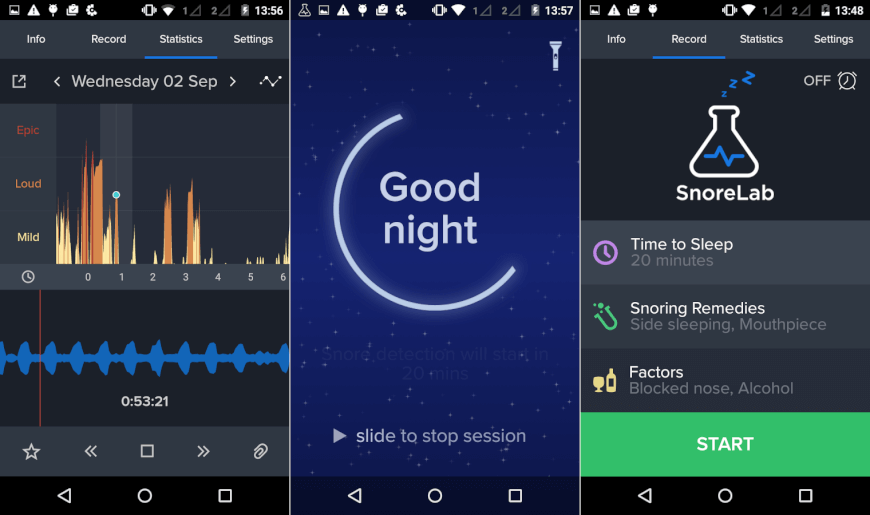 The Palo Alto based company, Azumio, has been developing numerous health apps, such as Fitness Buddy, Instant Heart Rate, Argus and Sleep Time, which was created in collaboration with researchers from Stanford University
The counter on its website shows that the sleep tracker measured almost 3.5 million nights globally. The app available on both Android and iOS analyses sleep patterns based on movement, records light and deep sleep, and it also wakes you up at the best possible moment in the morning. How is it different from its competitors, you ask? It contains the so-called soundscapes, which help users fall asleep with soothing sounds of natural environments.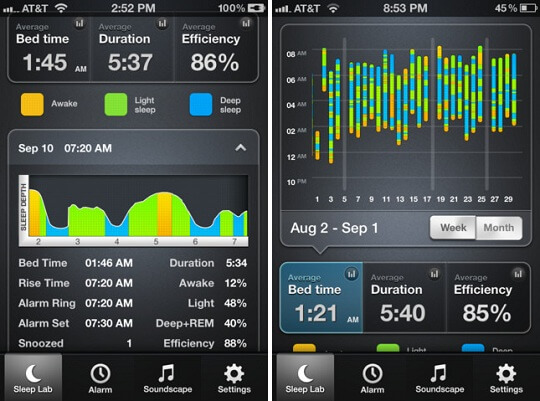 The Austrian-based Runtastic is best known for its flagship running and fitness app but offers a wide array of apps, hardware, and services within the Runtastic portfolio, including its sleep tracker, the Runtastic! Sleep Better app.
As any similar software, the app for iPhone and Android lets you track your sleep and improve your bedtime habits. It allows you not only to follow your slumber but also the influencing factors – monitors caffeine and alcohol consumption, exercise data or stress level. Moreover, you can also note down your mood when you wake up and keep a diary for your dreams.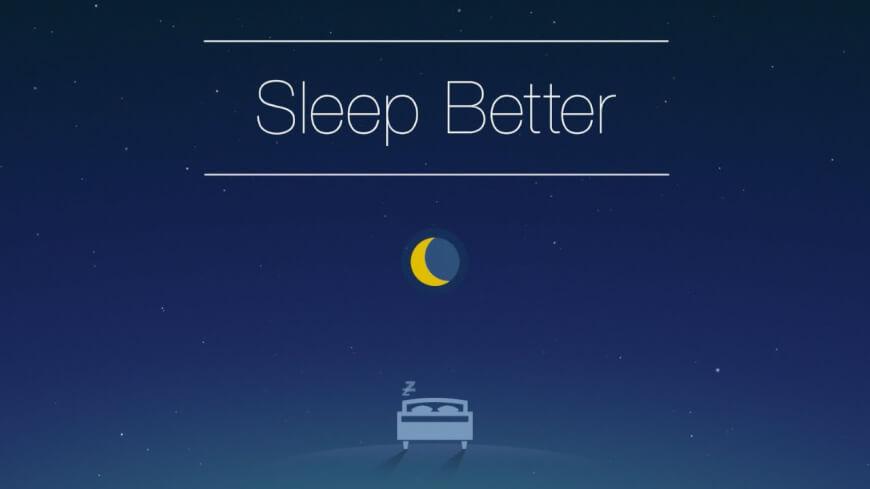 The app, only available for iPhones, uses motion and sound pattern detection to give an accurate overview of every snooze session. It monitors phases of light, deep sleep and REM, provides detailed sleep statistics with clear diagrams. Pillow helps users fall asleep or wake up with ambient melodies as part of its sleep aid programs and differentiates between various types of naps.
The software is fully integrated with Apple's Health app, and it uses health and fitness metrics – including weight, blood pressure, heart rate, dietary calories, and caffeine and alcohol consumption – to visualize how these measures affect your sleep quality. Currently, the app is available not only in English but also in German and Russian.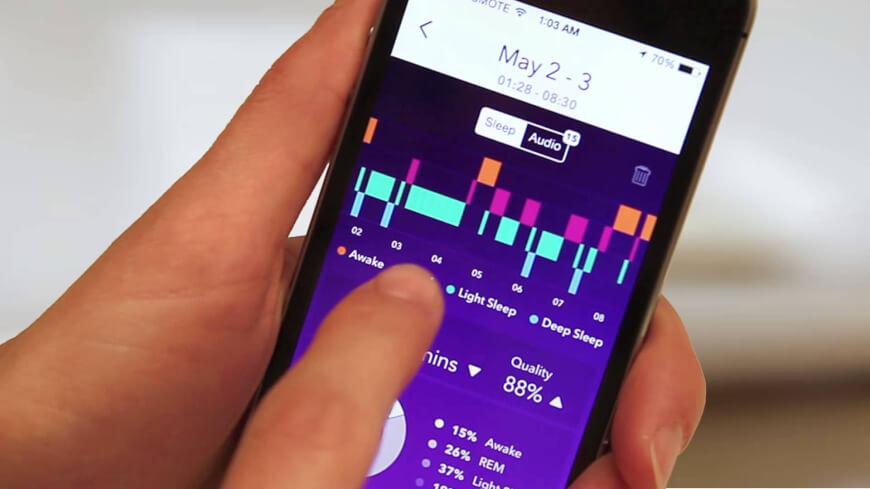 If you are interested in sleep trackers but you don't know how to start measuring your bedtime, here is our piece for you. If you are already a pro in sleep apps, but you have a feeling that they are not enough for you to improve your snooze, go through our article about the top sleep sensors.